Why we celebrate Holy Week
Christians observe Holy Week - including Palm Sunday, Maundy Thursday, and Good Friday - to prepare their hearts for the celebration of Easter Sunday.
by Daniel Vanderhyde, theology teacher
Why We Celebrate Holy Week
How is it possible for God to hate sin and yet love sinners? The answer is found during Holy Week at the cross of Jesus. The Bible is full of references to the fact that we have been delivered from our sin because Jesus took the punishment we deserved. Here are a just a couple of those passages: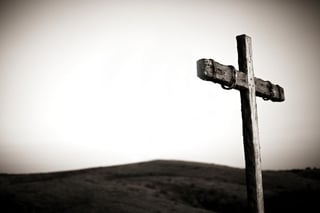 But he was pierced for our transgressions, he was crushed for our iniquities; the punishment that brought us peace was on him, and by his wounds we are healed. - Isaiah 53:5
He himself bore our sins in his body on the tree, that we might die to sin and live to righteousness. By his wounds you have been healed. - 1 Peter 2:24
What we Christians now observe as Holy Week was known to Jesus and his disciples as Passover, a celebration of God's rescue of the Israelites from their slavery in Egypt. The sacrificial blood of spotless lambs had protected Israel's people from the plague of death that swept through Egypt. Now Jesus, the perfect and sinless lamb of God, headed to the cross where he would lay down his life for you and me.
Palm Sunday
Jesus entered Jerusalem on the first day of the week and was greeted by joyful crowds who waved palm branches and called out "Hosanna to the son of David. Blessed is he who comes in the name of the Lord! Hosanna in the highest!" (Matthew 21:9). The crowds apparently believed at this point that Jesus was the Messiah and had come to save them. Jesus knew that the crowds in Jerusalem would soon turn on him. Still he continued his journey to the cross out of love for you and me. Palm Sunday is the start of Holy Week, and we praise and thank our Savior for riding into Jerusalem to do his saving work for us.
Maundy Thursday
Jesus celebrated the feast of Passover with his disciples. During the meal, Jesus gave new meaning to the traditional Jewish Seder meal, instituting what we now call the Lord's Supper (also called the Last Supper, Holy Communion, or Holy Eucharist). "Now as they were eating, Jesus took bread, and after blessing it broke it and gave it to the disciples, and said, 'Take, eat; this is my body.' And he took a cup, and when he had given thanks he gave it to them, saying, "Drink of it, all of you, for this is my blood of the covenant, which is poured out for many for the forgiveness of sins" (Matthew 26:26-28). On Maundy Thursday we celebrate the Lord's Supper and remember the rest of the events that took place that night. Jesus led his disciples to the Garden of Gethsemane to pray. He was captured and arrested by the Jewish leaders and put on trial. At the end of most traditional Maundy Thursday services, the altar is stripped bare to symbolize the way that Jesus' disciples deserted him. Even Peter, the boldest of the disciples, pretended not to know Jesus. We find ourselves guilty of the same sin, realizing with Peter that we often fail in following Jesus as we should. Left alone in the hands of the Jewish authorities, Jesus was sentenced to death. He would be sent to the Roman Governor, Pontius Pilate, where his execution would be demanded.
Good Friday
The governor did not want to kill Jesus. He could find no real charge against him. But the people who only a few days before had shouted praises to Jesus were now incited by the Jewish leaders to cry out for his execution. "Pilate said to them, "Then what shall I do with Jesus who is called Christ?" They all said, "Let him be crucified!" And he said, "Why, what evil has he done?" But they shouted all the more, 'Let him be crucified!' So when Pilate saw that he was gaining nothing, but rather that a riot was beginning, he took water and washed his hands before the crowd, saying, "I am innocent of this man's blood; see to it yourselves.' And all the people answered, 'His blood be on us and on our children!'" (Matthew 27:22-25). Jesus was handed over to be crucified. He was whipped, beaten, mocked, and forced to carry his cross to the place of execution outside the city. The Romans had fine-tuned a method of execution that maximized pain and humiliation. Crucifixion was for the worst of criminals. Traditional Good Friday services are dark and bare, reminding us that Jesus was forsaken for us. After hearing the Bible's account of Jesus' crucifixion and burial, the lights are dimmed or put out completely, and a single candle is removed from the sanctuary. A loud noise is heard, symbolizing Jesus' death and the closing of his tomb. But this is not the end. The candle returns and we are reminded of what the disciples did not yet know or understand. Hope had not ended. Jesus would be raised, showing his complete triumph over Satan and giving us new life!
Jesus suffered and died out of love for you and me. He was God's ultimate sacrifice for our sin. We are able to celebrate, even on a day as dark as Good Friday, because we know that Jesus was raised to life on Easter Sunday. Our sin is paid for, and Jesus is alive. Satan is defeated, and we will be resurrected to new life!