Alumni Spotlight: Susannah Black, Jesus' hands and feet in Zambia
2015 alumni Susannah Black is studying nursing at Creighton University and is involved in medical mission work.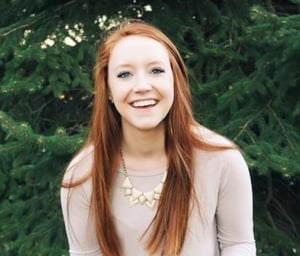 What have you been up to since you graduated from Lutheran High in 2015?
I started nursing school at Creighton University. I've been in the Chamber Choir for 4 out of my 6 semesters. I am also part of the Leadership Team of the Navigators - an on-campus, Christian organization that does bible studies and outreach to the Creighton community.
I am a member of Alpha Phi, a national fraternity, where I hold the position of Interfaith Directory. Basically, this means organizing bible studies and groups to go to various campus activities pertaining to faith, religion, and social justice issues.
I am a member of the Creighton chapter of Partners in Health - an organization that provides health options and care to poorer communities worldwide. Our chapter helps raise money for those efforts.
Currently, I'm in my third year of nursing school, which includes a lot of clinical experience. It's challenging but rewarding work.
Mostly, what I've been up to since I graduated is growing in faith, knowledge, maturity (hopefully), and relationships with my friends and family.
When did you know you wanted to be a nurse and what led you to pursue that path?
The fact that I started in nursing school is actually a happy accident. I made my college and career decisions in an incredibly clueless way that I would never recommend to any high schooler.
I chose Creighton because I didn't hate it (I love it now) and I chose nursing because I knew what it was and didn't hate the thought of becoming a nurse (I also love it now).
Although my decision at the time was not based on actual deliberation, God was - and is - sovereign. He knew what He was doing: putting me in a position where I get to grow and fine-tune skills and show a love for His children.
So, the more appropriate question, I think, is, "What continues to be my motivation for wanting to become a nurse?" My experience in Zambia played a large part of my shift from studying nursing because I didn't hate it to studying nursing because of a true fire and passion for the tough work involved.
Tell us about your mission work in Africa. What have been the biggest challenges and rewards? How did the experience differ from your expectations?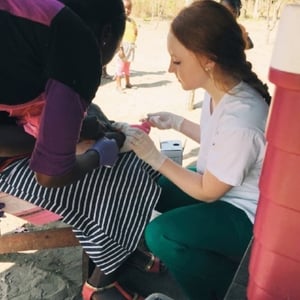 This past summer, I accompanied my academic advisor/mentor/friend, Cindy, to a rural clinic on the campus of an evangelical university in Zambia, where we were a part of a team of nurses, students, and eye surgeons performing cataract surgeries.
Local pastors came and translated for us, built relationships with us and the patients, and witnessed to them about why we were there and who Jesus is. While there, we performed about 60 surgeries and 108 people came to know Jesus Christ as their Lord and Savior.
The locals were also able to build relationships with the pastors so they could be invested and grow in their new faith. They learned about resources and churches in their communities to further this growth. It was truly a humbling and heart-altering experience, and I can't wait to go back this summer.
I had the honor of caring for these loving, community-oriented people while they were in a very vulnerable place, in pain, and unable to see. There is such beauty in a raw relationship based on the necessity of mutual trust and the love of Christ.
I also had the joy of being the face many of these people saw for the first time with new sight. Their joy, gratitude, and victorious stories as they rebuilt their lives and began to provide for their families have become part of me. These moments, these little sunshine stories and snippets of glory divine where I get to play a role in bringing the love of Christ to the world is why I have the desire to be a nurse.
The biggest challenge was leaving Zambia and coming back to the US. I had the opportunity to work alongside some of the students at the University while at the clinic, chat with them at meals, and sing with them at bonfires and worship nights. It's crazy how quickly and easily you get to know people that way. It's not something I was expecting. I can say with confidence that some of my best friends are still back in Zambia.
Coming back to the hospitals and patients in America, took a huge gulp of courage because I had to readjust to the differences in cultures.
What did you value most about your time as a student at Lutheran High?
The thing that continues to stand out to me and play out in my life even three years out of high school is the people who chose to take time and emotional energy out of their lives to invest in me as a crazy, needy, sometimes (okay, often) immature high schooler.
It's unbelievable the amount of support that I have received from my teachers and coaches at Lutheran, both then and even now! And this is uncommon in the best way possible. I valued it then, I think, but it is even more evident to me now as I continue to grow in the things they were teaching me.
I was so well-prepared academically for college, but even more than that, I was spiritually prepared.
The special thing about Lutheran is the amount of care the faculty and staff give to the students. They noticed qualities in me that I didn't even realize I had, and they made sure I knew how special and loved I am, and how much my unique skill set matters in the kingdom. They were patient with me. They made me feel valued.
Often times, the seeds they've sown don't bear fruit until a few years down the road, but the work the teachers at Lutheran do for their students - the love and care they show them, the ways they purposefully invest - are so so essential and so so appreciated.
My mom has always told me that sometimes we learn the kind of people we want to be from positive interactions with others, and sometimes we learn the kind of people we don't want to be from negative examples. My experience at Lutheran was of only positive, Christian role models. If I possess qualities of any of the teachers and coaches I got to know in my four years, I will count myself incredibly blessed.
With the gift of hindsight, how has your faith impacted your pursuit/experience of nursing and how has nursing impacted your faith?
Paul calls and convicts us in Romans 12 to offer up ourselves as living sacrifices to the Lord, as vessels with which he can display his character, glory, and love to the world, and that this very act is worship. That's what I get to do as a nurse. I get to step into the hospital or clinic or even just the classroom and worship my Jesus.
As a Jesuit institution, we are often asked to reflect on the Jesuit values in our clinical experiences. I was raised Lutheran, not Catholic, but these assignments and the Jesuit values really do cause me to reflect on the enormity of our God.
I get to see God at work every day. I get to pursue a love of him and a love of his people more. I get to come alongside people and aid them. I get to be a caregiver, not just somebody who looks at physical ailments and works to heal, but who gets to know people as they come to me and show them Jesus. I get to give that glory right back and magnify Him through which all of this is possible and worth it.
Are there any particular Lutheran High teachers, coaches or staff members that significantly impacted or influenced your life?
Too many to count! Is that an appropriate answer?
I had Mr. Stelling my sophomore year for Theology and he picked on me relentlessly. Despite the constant (light-hearted) taunting, Mr. Stelling always had a kind word at the ready. He made sure I never got nervous when I was singing during chapel, and that's a big deal.
Mr. Loesel recognized that I have some semblance of organizational skills and allowed me to help in planning Choir Tour one year. My sophomore year was the first year that Jubilate went on tour and we went to Nebraska. We had a couple hours of free time that we spent at the mall. Five or so of us found a Build-A-Bear, made Mr. Loesel a tiny bear in a tiny tuxedo and a tiny top hat to commemorate the occasion, and affectionately named it Jubi-Bear. Jubi-Bear was ever present at choir events for a few years.
Ms Oates has always been a huge encourager. She lifts people up effortlessly and naturally. She invested in me in many ways, both on the volleyball court and in the classroom. The most important way, though, was how she influenced my personal relationship with Jesus and how I interact with other people.
Mrs. Rogness is just the coolest human being I know. One word that comes to mind is steady. She's consistently her goofy self, she's constantly positive, she's steadfast and faithful. And she cares. Mrs. Rogness cared even when I didn't. And then she made me care, because she cares so much. She even got me to care about Anatomy and Physiology and got me thinking about nursing. She's a friend.
My dad, Mr. Black, taught me more than he realizes. He took a job at Lutheran my junior year, but he gave me space to grow and learn in recognition that it was my school first, which was more than I deserved. Also, I might be biased, but he's quite literally the best teacher on the planet. He cares so much for his students and has their best interest in mind. He is always learning, always growing, always thinking about what he could do next, always coming up with new and amazing ideas.
Mr. Zilm taught me to be brave in trying new things, even when you're really, really terrible at the new things (I played golf for like a hot minute).
Mrs. Davis is very talented, humble, and hard working. I have never met anyone who works as hard as she does and still has the energy to be a friend, a coach, and a mother on top of being a teacher. She has consistently been present for me and both of my sisters as she taught all of us, caring about what's going on in our lives. She's an example to me of what it means to love well and to keep God first in my life.
Mr. Ness manages to somehow be the best, most respected, and most loved principal that ever existed. I didn't think it was possible, but he's living proof. The example of leadership that he sets for the students and teachers at Lutheran High is admirable. Also, his quick wit and his ability to find a pun in everything is astonishing.
Mr. Zoeller showed me that music is always new and Jesus is always cool (ask him about his new hipster-folksy-acoustic liturgy).
Is there any advice you would like to offer to the current and future students of Lutheran High?
Find what you're good at, what you do well, and stick to it. Be brave, be humble, be willing to learn and grow and change, lean on people, help others when you can, and cling to Jesus with everything you got.
Tell us about your Faith Blog.
When we create memories, our brain records the general idea of what happened and how it made us feel, but the details sort of fade away because they are less important.
A few years ago, my little sister Carrie (class of 2017) said that we should start a blog. I don't remember why it came up or where we were, but those are the less important details, and I do remember it made me excited. There's a saying that you should "be an expert in what stirs your affections for Jesus." I want to be an expert in that and that's why I got excited about this blog.
So it's not mine, it's ours. What it has become over the years is thoughts based on life lessons and how we turn to Jesus in the midst of those things. We appreciate vulnerability in our utter humanity and magnifying God as the loving Savior that we so desperately need.
The blog is a form of witness and it helps us be real with each other, to talk through the nitty gritty of the realities of life, to build each other up, and lead each other back to the cross where we get to freely lay down our burdens, our doubts, and our shortcomings at the feet of the one who risked everything to keep us close to himself.
I was hanging out with Carrie at Concordia University earlier this year when she told me she wanted to take me somewhere, and we found ourselves at a little outdoor chapel in the very chilly early morning. There's a wooden cross standing in the middle of the field behind her dorm. She said, "I want to stand at the foot of the cross." So we did.
*all photos posted with permission