The difference between a charter and private school
With school choice in Colorado, it's hard to know what the differences between schools are - especially charter and private schools.
Diligent parents researching secondary education choices for their children may be confused by the range of choices available across the Denver area. While the choice between a public and a private school may seem somewhat straightforward, it gets a bit muddier when comparing charter schools to private schools?
We understand your confusion, and we are here to help!
An introduction to charter schools
Students apply to charter schools, since their unique system and curricula is a desirable choice for some parents in lieu of traditional public schools. Although students apply, charter schools can't turn students away. If demand exceeds the number of student openings, charter schools will use a lottery system to determine who attends. This is in stark contrast to private schools, who admit students on the basis of specific qualifications.
While private schools are operated by a carefully chosen board, charter schools are typically operated by a group of parents, teachers, or community members. Charter schools do not adhere to the district wide bureaucracy of district public schools.
Examining the differences between charter schools and a private education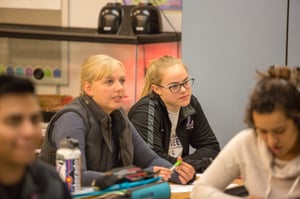 If your child is coming from a charter middle school, he or she will find a seamless transition to life at LuHi or another private school. With similarities in classroom size, closeness and familiarity with teachers and learning styles, and your ability as a parent to be involved in your child's education, charter school do share some key elements in common with private schools like LuHi.
There are several critical differences between charter and private schools that will have a considerable impact on your child's high school education and experience; however, and merit your consideration, including:
Curriculum
Here at LuHi, and at many private schools, you will find they go the extra mile to customize your child's curriculum to meet his or her needs. This includes a range of electives and AP, dual credit and college-level courses, plus highly customized classroom experiences from dynamic, passionate teachers.
The Academies at LuHi offer select students the ability to pursue highly specific paths that align with their passions. Currently, the six (6) Academies offered at LuHi include:
Art
Business
Lights
Music
Mission & Ministries
STEM
At Lutheran High in particular, we place heavy emphasis on college preparation in addition to our standard curriculum. We are committed to preparing your son or daughter to achieve his or her highest possible results at college or university. As part of our college testing prep, we prepare students for both the SAT and ACT to maximize their potential performance on these critical tests for college admissions departments.
Due to their unique status as a charter school and a public school, Denver charter schools follow state standards for college prep, which includes preparation only for the SAT and misses critical preparation for the important ACT test.
Aside from the state-mandated curriculum, you may find that the variety of electives and college-level courses will vary widely between charter schools. It is important for parents to conduct specific research to ensure the availability of courses and topics important to your child when considering charter schools.
Activities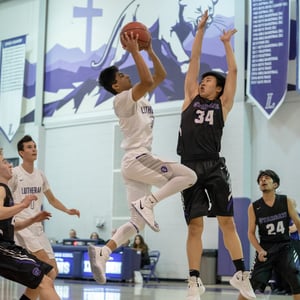 Private schools like LuHi typically have a wide range of extracurricular activities. Our long list of clubs is constantly growing as we add more options based on student interest. From robotics to writing, student council to yearbook and much more, there is something for everyone here at LuHi. We also offer a range of competitive sports and arts activities for students to explore and pursue their passions.
While we place an emphasis on college preparation, it's also critically important for LuHi students to have a memorable, enjoyable high school experience. These four years are some of the most pivotal in their development! From student dances and prom to homecoming and pep rallies, your child will be enveloped in a supportive, engaging experience at LuHi.
The "high school experience" varies widely between charter schools — once again, it is important to research specific schools and their offerings when considering options for your child. Here in Denver, most charter schools eschew many of the "classic" high school experiences noted above for other custom offerings. Depending on your child (and your goals for his or her education), this may or may not align with your secondary education needs or wants.
Faith
LuHi and many other private schools offer faith-based education. The worldview of kids is heavily influenced throughout their elementary, middle school, and high school educations. Their philosophies and exposure to cultures will be honed and refined during these times, impacting them for the rest of their lives.
Here at LuHi, we believe strongly that an education rooted in scripture helps best prepare students to take on the world after graduation. It's important to note that many students at Lutheran High are not necessarily Lutheran, and a Lutheran faith is not required to attend Lutheran High or any other Lutheran High School.
The core tenants of "grace alone," "faith alone," "Scripture alone" found in Lutheran theology and doctrine by their very nature resonate with all people in search of the truth. They also draw in non-Christians who are seeking answers to the greater questions of life.
How to decide on the best education for your son or daughter
Of course, here at LuHi we feel strongly that we offer the best possible education for your son or daughter. We proudly welcome students from across the region and provide them with a holistic, memorable, and successful secondary education.
For more information on what it's like to attend LuHi (or many other private schools), please contact us to schedule a tour or to have an initial discussion over the phone. We are here to help!