Haley Looney awarded with ROTC Immediate Scholarship Reservation
LuHi Senior, Haley Looney, was recently awarded with the ROTC Immediate Scholarship Reservation. She's 1 of 3 students in CO to receive this scholarship.
Earlier this semester, Haley Looney was surprised to see Commander Baldwin in the gym during Chapel. She had met the Commander a few weeks prior when she was interviewing for an elite ROTC scholarship. That morning, Commander Baldwin presented Haley with the ROTC Immediate Scholarship Reservation. She shares how she felt in that moment, "I had no idea he was coming; it completely surprised me. I saw he had a big check, and my first thought was, I wonder who it's for?" When she saw her dad crying in the wings of the gym, it started to sink in the check was for her!
Haley is one of 3 high school seniors in Colorado to receive this merit-based scholarship. It will cover Haley's college tuition as well as other financial expenses in college. With 11,000-15,000 applicants each year, this is a highly competitive scholarship. After Haley turned in her application, she was interviewed by a Navy recruiter over the summer. Based on her academic achievement, school and community involvement, and interview, the recruiter recommended her to Commander Bladwin for consideration for this scholarship. She was one of 6 in the region to be recommended and later found out she had received the highest scores ever from her recruiter!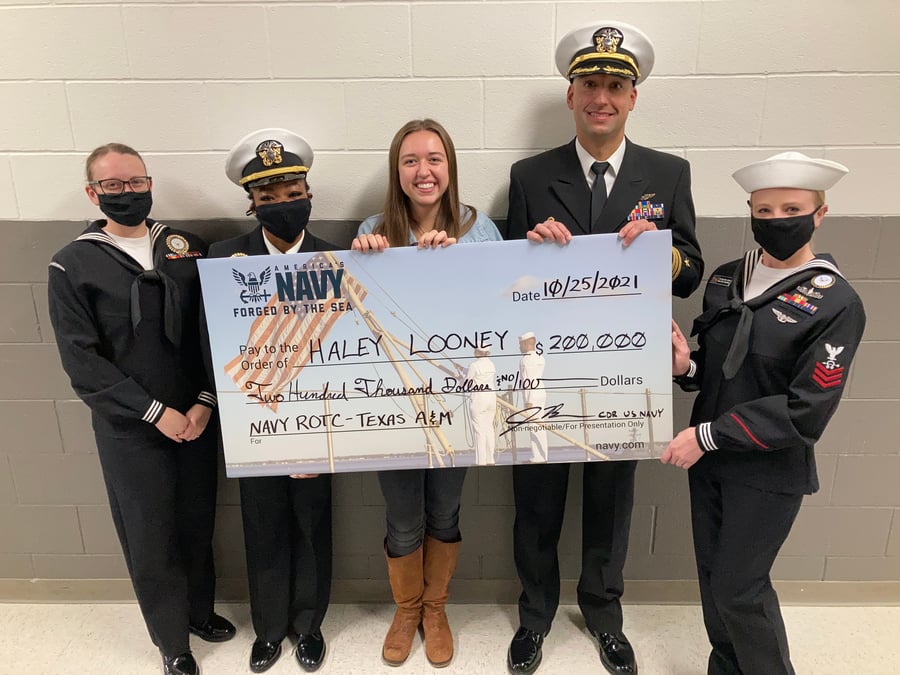 "Usually, you just do one interview, but they called me in for a second interview and told me it was for an immediate scholarship opportunity. At that point, I figured I would get some type of scholarship from them, but I didn't think I was going to get this one!" Haley shares.
Besides her academic achievements, the application also had a physical fitness assessment as part of the process. Haley had to run a mile, do 2 minutes of push-ups, and do 2 minutes of sit ups all under 25 minutes.
Joining the military is something Haley has always been interested in. Several of her family members, including her Grandpa, who served in Vietnam, have served in different military branches. She chose to enter the Naval ROTC program specifically because of her interest in being a doctor and the options to serve in both the Coast Guard and the Marines.
Her long-term goal is to become a dentist. When asked why she said, "Teeth fascinate me. If God led me to like teeth, I should explore that." In the shorter term, she hopes to study physiology, kinesiology, biology, or exercise physiology, depending on where she attends college. For this scholarship, she had to list her top 5 schools: Texas A&M, U Penn, University of Arizona, Colorado University, and the University of Oregon. Besides a major in a pre-med field, she also plans to minor in Spanish.
Although Haley has many options to pursue her medical degree and become a dentist, she is interested in being a career military doctor. "Doctors should serve people who really need it, and I think there's a huge need especially for female doctors in the Coast Guard and Marines."
She credits her desire to be a doctor to Mrs. Rogness. Haley has taken science classes from Mrs. Rogness 3 out of her 4 years at LuHi. In addition, Mrs. Rogness was also Haley's volleyball coach. "She's just a really good woman that I can look up to." Other teachers that have had a positive impact on Haley during her high school years are Mrs. Elmshauser and Mr. Parrott. "Mrs. E has been a mentor to me and is very supportive. And Mr. Parrott? I just love that man. He's really funny." Haley says.
While at LuHi, Haley has played volleyball and tennis, participated in Theatre and Jubilate, and served as NHS secretary. She is also in the STEM Academy and is busy with dual credit classes. "When I graduate, I will only be one class away from being a sophomore in college!"
She also shares that she has grown in her faith during her time at LuHi, "I grew up in a Christian home, and it's always been part of my life. But at Lutheran, it became more personal, and I was able to know God and apply [that knowledge to] my life in a way that I haven't before."
Haley has been a blessing to the LuHi community, and we are excited to see what God has for next in her service to the Navy!