It's true. We have high standards for our students at Lutheran High. We want them to succeed at the highest levels, and to be so much more than just "functioning adults." We want to help out students become compassionate, giving, loving, intelligent members of society who are committed to God, and who impact the world in big ways. This goal drives everything we do at LuHi, and we are strategic in supporting students to achieve it. We are proud of our school's culture of improvement and growth. Let's talk more about what that means.
Support for Academic Success
The rigors of academia can be challenging for many students, especially those who have a bit of trouble adapting to hybrid models of in-and-out of classroom learning. We offer Academic Lab twice a week to provide personal attention, often one-on-one, so that anyone who is struggling can get clarity and improve understanding on any class subject. A key component of academics at LuHi is the relationship between teacher and student. We know that when a teacher takes a genuine interest in the success and well being of students, they feel supported. This creates a safe environment in which the student can fail, knowing they will have someone in their corner to help them learn from their mistakes.
Because of this culture of love and support, students can take appropriate risks that can lead to great accomplishments, and they don't have to feel afraid to ask for guidance or seek help. In fact, a lot of our students consider Academic Lab a great opportunity to deepen understanding of course subjects and help fellow students.
Personal Support for Each Student
Our guidance team is also closely involved in each student's experience at LuHi. Discussing goals and choosing classes together ensures that students feel safe in exploring different educational paths. Periodic check-ins foster a culture of caring from the staff that is oftentimes paramount to success.
Another important role of our guidance team is to find out if what we're doing for our students is actually helping. A valuable tool for accomplishing this is our Freshman Interviews. We love to hear from students who have completed their first year with us and to listen to how it went. We ask questions like:
Did you feel supported?
Did you have access to help when you needed it?
Has your faith and relationship with God strengthened?
Assessing our success in guiding our students is the best way for us to change direction if we need to. It allows us to always be the best teachers and staff that we can be for our LuHi Lions.


Engagement Inside and Outside of School

Teachers at Lutheran High School take personal responsibility for shaping their students into confident, focused, and hard working adults. When they are truly engaged, students will learn to apply their classroom knowledge to the real world. Students see the value in learning lessons rather than regurgitating information, and they take much more interest in a subject when they can see its application. So when teachers gently push their students to be diligent and to do the work it takes to grasp a concept, the result is a deeper understanding along with a sense of personal growth.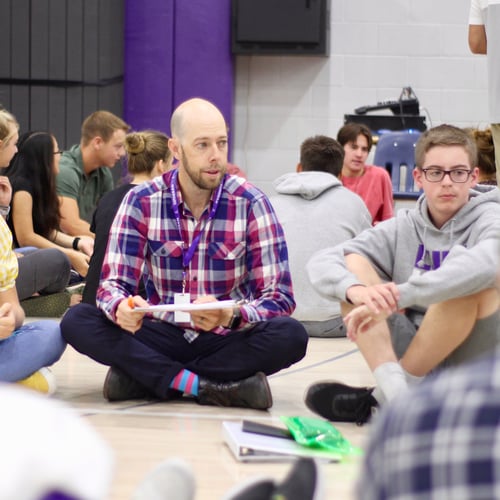 Discipline with an Eye on the Future
In keeping with our desire to foster a culture of improvement and growth at LuHi, we do discipline a little differently. Accountability is the main focus of our efforts in disciplining students. We know that this builds resilience in young adults and as they learn to receive feedback on their actions, their integrity strengthens. It is through this type of thoughtful and compassionate counseling that we help our students hear the guidance of the Holy Spirit. We work with each student to right the wrong and move forward, according to His leading. Everyone makes mistakes and when we focus on learning from those mistakes, we are held accountable.
There should be no confusion regarding the expectations of the student body - from the very first day, we clearly and kindly communicate these goals. We love to see parents involved as well, because when we are all on the same page, we can truly impact our students' and each other's lives.
Central to the functioning of this team is the Christian principle that we are all obligated to help another person who may be falling short or who may lack what's necessary to get through tough times. We are all responsible for holding each other accountable - parents, teachers, and peers. Together we lift each other up in His glory as we conquer our missteps.
At the Center Are Student-Teacher Relationships
For students at any school, having a teacher in their corner who is committed to their success is incredibly powerful. At Lutheran High School, we see how God works through these relationships to teach respect, courtesy, genuine care and compassion, and a culture of love. The foundation that teachers and students build together creates a safe environment for exploration and personal growth. Feeling confident and supported goes miles and miles when a student is ready to take risks to achieve goals. And knowing that they have a strong support system should they fail goes a long way as well. Strong student-teacher relationships are the first step.