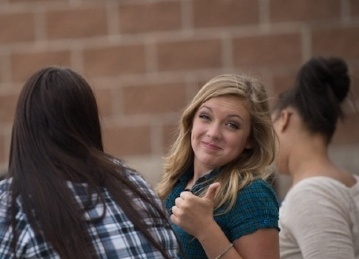 updated January 2018 with new requirements
Applying for high school can feel overwhelming - especially if this is your first time through the process. The LuHi Admissions Team is here to help you navigate the process. Feel free to reach out to them anytime.
Note: Before you apply for admissions, you are welcome to apply for tuition assistance. Our tuition assistance application opens up mid-September and you can find more information here.
We put all the steps for applying and getting accepted to LuHi in one place for your convenience.
6 Steps for Breezing through the LuHi Admissions Process
Schedule a tour with the Admissions Office.
Each LuHi tour is personal. Your family will have one on one time with a member of the Admissions team to witness our culture, see our building, and learn about all of our academic, athletic, and art programs. It is a time when you will get all your questions answered and be equipped with next steps.

A student's 7th grade year is a great time to schedule a tour. You'll be ahead of the game, empowered with information, and ready to move forward when your son or daughter starts 8th grade. Even if you've been in the building before, we encourage you to come and get information you won't be able to get elsewhere.


Schedule a shadow day.
Shadow days are the best for way for a student to get a day-in-the-life look at LuHi. They will get to experience our culture, classes, and curriculum. Students will also meet teachers and coaches, as well as current students. Shadow days allow 8th graders to walk away from their day saying, "I can see myself as a student here" or "No, I don't think Lutheran is a great fit for me."

Shadow days are open to 8th grade students and start after Labor Day. Although we welcome shadows all year, we recommend scheduling your shadow day sometime first semester.


Apply.
It may seem like an application is a later step in the process, but with our rolling acceptance policy, an application acts as a place holder. With an application, you are not committing to Lutheran, you are just expressing to us that have a serious interest and plan on moving towards acceptance.

Every year, our application opens on September 1st. It takes about 15 minutes to complete and there is a $50 application fee to submit it.


Request teachers to complete recommendation forms and student transcripts.
Each student needs 3 recommendation forms submitted to the Admissions office. As you fill out the application, you will see a place to put in email addresses of Math, English, and Homeroom teachers. When the application is submitted, forms will be emailed directly to the teachers and then submitted directly back to the Admissions Office. Transcript requests work the same way: they are submitted as part of the application and then sent to the Admissions office.


Sign up for a Placement Test.
Each applicant will need to take the High School Placement Test (HSPT) before we can accept them. We offer placement tests once a month October through January. The dates can be found on the Admissions page of the website and you can sign up for one by contacting Hannah (hannah.buchholz@lhsparker.org). These tests take about 2 weeks to get back after the testing date.


Write an original essay.
Requirements and topics for the essay change each year, so check the Admissions page for the most updated specifications. Students can type their essays and email them to Jodi.Hoehne@lhsparker.org in the Admissions office.
And that's it! After we get an application, a copy of the transcript, the 3 recommendation forms, an essay, and the placement test results, you will learn of your student's acceptance. After a student is accepted, families have until March to make their final decision and commit to LuHi.
We are excited you are considering joining our community and know you will love being a LuHi Lion!