Is a Private High School Right For My Student?
There are so many school options in Colorado. How do you pick what's best for your student? Here's some questions to ask as you consider high schools.
This is an important and complicated question for parents to ask today. As you have probably discovered, choosing a school for your child is not just determined by academics and finances. The decision is also dependent on your child's personality, skills, and activities as well as your family's needs. The below questions will help you determine if a private school is right for your kid.
How will my kid get to school?
Location is a key factor for parents choosing a high school. Some families prefer it to be in walking or bussing distance for both classes and after school activities. This can make it easier for families who have multiple children attending multiple schools and for parents who work.
Many private schools offer transportation options. For example, LuHi offers a shuttle service from seven locations in the Denver area as well as a carpool option from SchoolPool. Check with the schools you are interested in to find out how they support this need.
Does my kid thrive in smaller or larger environments?
Colorado public high schools typically have 2,000 to 3,000+ students and an average of 30 students per class. There is a great variety in peer groups and in extracurriculars options. For some kids these are benefits, but for some they are detriments.
If your child is likely to feel unmotivated to find friends in a large pool of kids, if they are less likely to participate in discussions in larger classes, and if they want to participate in a wide variety of activities, then a smaller environment might be the better choice.
LuHi has about 750 students with an average of 25 students per class. Research has shown that students in small classes perform better than their peers do in larger classes. Our 100% graduation rate proves this benefit. Plus, students are able to play a variety of sports, sing in choir, play in the band, join the Robotics Club, and try many other extracurriculars in a smaller school.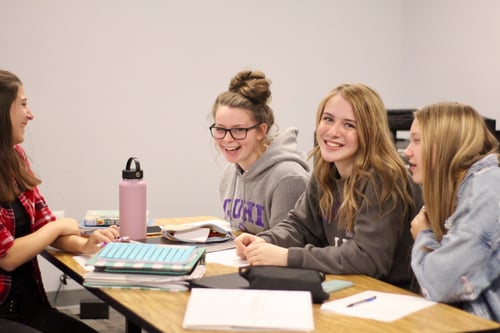 Does the school have classes and teachers that support my kid's strengths?
Public schools' curriculum is determined by the state so you can be sure that your student is receiving an education that meets state standards. They also have options for students on support plans or with learning differences. Most SpEd programs will be able to support students on accommodations and modifications. If your student has different learning needs, ask the private school you are considering if they can support your student's support plan. LuHi offers an Access program to students on IEPs and 504s and can support most accommodations. We do not support modifications.
When looking at smaller private schools, be sure to make sure they are accredited. Also consider that accredited private schools can follow state laws and still offer flexibility in curriculum that larger schools cannot. For example, LuHi's Academies offer students the opportunity to customize their education in a particular area of interest and receive an endorsement on their diploma.
Our teachers and coaches are able to give individualized, quality attention to the students and use hybrid teaching methods that public schools don't have the freedom to try. Our teachers are talented experts in their field and passionate about more than grades. They want to see students challenged beyond regurgitation of facts. They teach life-long skills that help students address real-world situations.
What are my kid's goals post high school?
Does your child want to attend college after high school? If so, and even if not, their high school education will play a substantial role in their chosen career path, acceptance into college, and scholarship money.
Parents need to look at the extracurricular activities, clubs, and classes offered that can help ignite their child's passions. Have an honest conversation with your child about their interests and what's available in each school.
Also, consider the college-prep curriculum. Both public and private schools often offer Advanced Placement (AP) and college-level courses. Denver Public high schools usually have more Advanced Placement (AP) courses available to students. However, in recent years colleges have stopped accepting even the highest AP scores. LuHi now offers dual-credit courses which actually count towards college credit.
Did you know that students who attend private high schools receive higher scholarships than those who attend public schools? Recently, LuHi grads were offered 300% more scholarship funds than those in Douglas County public schools.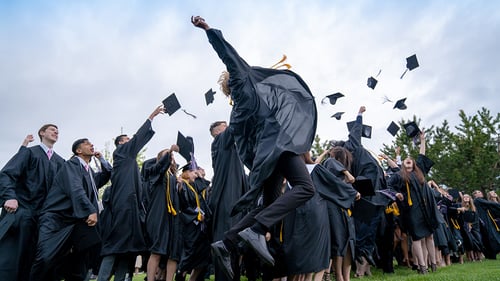 Can our family make the financial commitment?
If all answers above point towards "yes" to private high school, you might still have nagging doubts about the burden on your bank account. But before you make a final decision based on the financial cost, meet with the school to discuss all scholarship and financial aid options.
Most private high schools have a support system for those who are deeply committed to the best education possible for their kid. For example, LuHi offers tuition assistance on an as needed basis and a discount for students who attend Lutheran churches in our association. Tuition need looks different for every family and every income level, so be sure to ask if you aren't sure if you will qualify or not.
Whether you end up choosing public or private school, make sure to take the time to consider all the options carefully. And if you try a school that doesn't fit right after a few months or years, don't be afraid to make a change. You deserve peace of mind, and your kid always deserves the best for their unique gifts.