Spotlight on Track & Field — Training for Excellence
Student athletes are breaking records and turning out champion performances every year.
Our Top Track Program
Lutheran High School's track program has a history of success. Student athletes are breaking records and turning out champion performances every year. The track and field team is led by Coach Darwin Horan, who brings a passion for sportsmanlike competition to the training, along with a real desire to help high school athletes become the best versions of themselves.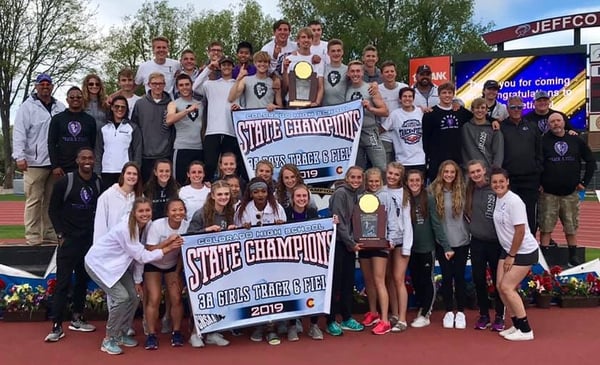 Coach Horan fully believes that students' lives can be enhanced with a clear sense of direction and purpose, and that athletic pursuits and accomplishments can provide exactly that. He also recognizes the critical role a coach has in guiding and encouraging students to greatness and godly character. His family is highly involved in track and field as well, with his wife being a stout supporter of his coaching, and with all four of his kids having been under his training.
As a whole, our track coaching staff seek the best for each student they take responsibility for, and push them to believe and strive for the greatness they're capable of. This means having a year-round training progression program in place for each track and field discipline and event. Summer training is key to taking our performance to a higher level, alongside fostering positive attitudes and strong work ethic.
"I embrace coaching as a creative process...We continue to tinker and evolve these things through processes that allow the athletes to adapt positively."
Coach Douglas Ries
What Makes for Athletic Excellence?
Athletic excellent with the track and field team goes beyond the physical qualities the students demonstrate. Our kids are taught that obstacles and difficulties should be embraced, and that struggling is what helps one become strong and able to overcome future adversities with confidence.
Our athletes are kept performing their best through a variety of training efforts that keep the track environment stimulating and full of energy. Coach Quinton, for instance, focuses on a high-energy approach helps them feel engaged and gets the most out of their practice sessions while supporting more consistent performance.
"My favorite memory is from last year, when the boys and girls both won state!"
Coach Quinton
Here are a few defining principles of the overall program that supports the team's ongoing accomplishments::
A 50-week training model (1 week off after State Track and another off for Christmas)

Surrounding our athletes with some of the best event coaches in the State of Colorado

Getting athletes in top shape and never letting them fall out of it.

An open-door policy so athletes know training and coaches are always available to help them succeed.
Track is a difficult sport because it requires constant scrutiny, and students are under a 24/7/365 microscope in their performance. But aside from physical performance, students are taught several primary characteristics:
Effort

- Every member of the team, from the head coach down to the newest freshman recruit, is expected to put in 100% effort in everything. Whether it's a daily training session or a state championship, students show up ready to commit everything they have to glorify God through their effort.

Attitude

- Attitude can make or break a team, which is why Lutheran High School track revolves around a positive and uplifting attitude at all times. We do not shame or berate, nor do we act superior to each other or act with unsportsmanlike conduct. Students are taught to be patient, open to constructive criticism, and supportive of one another at all times.

Selflessness

- The team as a whole comes first. This is why we refuse to put up a school record board. Older students help younger kids, handing down a tradition of excellence and selfless consideration for others that goes beyond graduation.
Succeeding Beyond the Field
Track is the largest athletic team at Lutheran High School, which means our student athletes have the opportunity to impact other students both in the classroom and in their own sporting events. We cheer other teams on and support them at events. We help in the classrooms, with study sessions, homework help, and going over assignments together. There's even tutoring in place thanks to Coach Rachelle Robbins, ensuring that no student ever becomes ineligible to perform on the field because of grade struggles.
We believe all athletes represent themselves, their families, their team, their classmates, their school, and God above all. In track and field, we aim to give them the ability to step out as champions in a world that desperately needs selfless leadership from those who understand struggles aren't to be avoided—they're to be overcome with confidence and grace.
Our track kids are proud of the Lutheran tradition and it shows when they are at meets, at the mall, or when they interact with our parents!
"Every year, every day develops its own special memory. After continued success as state champions, the best memories are the ones where each athlete discovers their true potential and everything just 'clicks.'" – Coach Jeremy Dodson