Staff Spotlight: Rachelle Robbins, Athletic Director
Rachelle Robbins has a long history of coaching and she brings her expertise to the role of LuHi Athletic Director.
Rachelle Robbins might be new to the role of Athletic Director, but she's no stranger to school athletics. In high school, she was a four-sport athlete (basketball, softball, track, and cross country), and in college, she ran track and cross country at Concordia University, Nebraska. After her college graduation, she started her coaching career and now has an impressive resume, including 18 years as a track coach and 13 years as a cross country coach, plus a handful of years as a girl's basketball and tennis coach. Coaching has taken her from Nebraska to Arizona, Texas, and Colorado.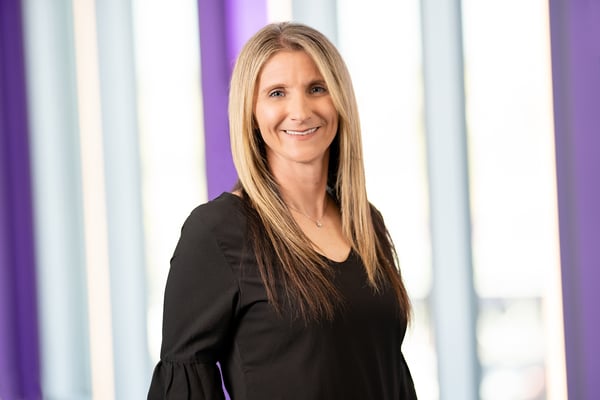 As her focus has shifted from coaching to being an Athletic Director, she shares, "I love coaching because of the relationships you develop with athletes. I think being able to walk beside your athletes as they go through the highs and lows of the season and guiding them through the tough times while celebrating the victories is unique and special. What I look forward to most about being an athletic director is watching our coaches and athletes compete. Competition is a great thing, and moving to 4A, we will face some tough competition, but I am excited to see LuHi step up to the challenge of 4A and excel."
Denver Lutheran High School (and the post-merge LuHi) has always been part of the Metro league, so the task of switching conferences is no small thing. As we join the 4A Pikes Peak League, Rachelle aims to keep the mission the same while enhancing our competitiveness, "I want to continue to foster Christ-centered growth as a department, as coaches, and as student-athletes. With this, I would love to see us continue competitive excellence across each program, especially as we jump into 4A and new leagues. I believe we have some of the most talented coaches in the state.
I look forward to helping expand and improve our facilities and giving our athletes an experience that can be transformative and impactful as they grow into future leaders and difference-makers."
Rachelle began the 2021 school year as Assistant AD. But due to a vacancy in the AD role, she took on the bulk of the Department's responsibilities. It became quickly apparent that she was up for the challenge of AD. And it's no surprise since she's had many mentors and experiences that have helped her become a leader. She reflects, "I think I have learned valuable lessons that have helped shape me into the person I have become with each new school and position."
She shares that one of the most rewarding parts of her job is watching LuHi's student-athletes glorify God through their talents and the spirit of competition. "Having the opportunity to work with so many different sports and programs lets me see how each one allows our student-athletes the opportunity to grow, build skills, and strengthen their character. When they graduate High School, they will be better suited to make a greater impact for the Kingdom. That's one of the best perks of the job.
During the past six years, I have had the opportunity to witness numerous state championships from over six different programs - including 5 of them as a track coach - and see individuals come together as a team and realize the goals that they have worked so hard is priceless. There are too many [favorite memories] to recall and choose a favorite, but watching our student-athletes celebrate their success with their teammates and coaches brings me some of the greatest joy."
Being LuHi's AD doesn't leave her a ton of free time, but when she does, she enjoys skiing, watching the Kansas City Chiefs play football, and spending time with her husband and three kids. If you attend a LuHi sporting event, you'll see Rachelle supporting our student-athletes and coaches and see first hand how she is a blessing to LuHi.