Staff Spotlight: Tim Thomack, Dean of Academics
Tim Thomack is passionate about Lutheran education, and he is excited to continue to foster academic excellence at LuHi.
In any conversation with Tim Thomack, it is clear that he's very passionate - passionate about Lutheran education, passionate about supporting teachers and students, and passionate about LuHi.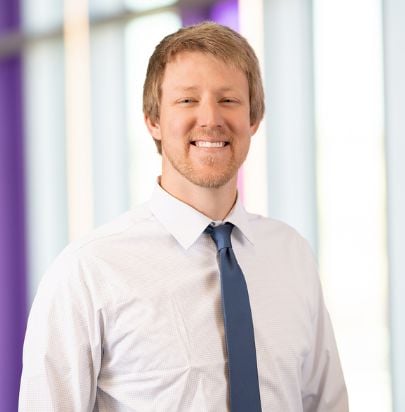 Tim's passion started at an early age. He first knew he wanted to be a teacher in 5th grade - initially inspired by all the free food his teachers received. Between the food, the rhythm school gave to his life, and his passion for people, teaching is a natural fit for him. He attended a Lutheran grade school through 8th grade and then attended a public high school in his hometown in Illinois. He then pursued a degree in Lutheran secondary math education at Concordia University in Mequon, Wisconsin, where he graduated in 2011.
Before joining the LuHi family, Tim worked at a small Lutheran high school in southern Illinois where he taught the bulk of the math classes and served as the athletic director. He came to LuHi in the fall of 2015 and taught regular and honors precalculus, as well as public speaking and theology. Tim currently serves as the Dean of Academics at Lutheran High.
Tim describes his role as Dean of Academics as a little bit of everything. He says, "My primary role is to work with teachers and administrators, specifically our principal, to support the academic structures of our school." His responsibilities include:
teacher support and mentorship
classroom observation
data collection
curriculum review and development
and professional development.
He also initiates conversations about what's next for LuHi academics.
When it comes to growing our academic departments, Tim's goals center on LuHi's mission of nurturing academic excellence and encouraging students' faith. He's focused on encouraging excellence in reading, writing, arithmetic, and critical thinking. He also wants students to understand who they are in Christ and how they can use their God-given talents. In his own words, he wants our academics to, "provide students with offerings and pathways that will serve their passions." He believes God has equipped students with specific gifts they can pursue daily at school. Using these gifts creates a more enjoyable academic experience for students. In the next five years, Tim hopes to continue to pursue excellence and provide students with more stability and consistency in LuHi's academic experience.
Tim defines excellence at Lutheran High as a combination of two things:
First is excellence in academic standards. At LuHi, all academic standards must have a foundation of Biblical worldview. Tim ensures state and national standards and best practices are also met.
The second part is ensuring every class offers a highly relational environment.
A highly relational environment is a hallmark of Lutheran High School, and it has a lot to do with why Tim enjoys his job. He says, "I love people. My favorite part of my job is relationships." He loves that he started his career mentoring students and now gets to support the LuHi faculty. He loves "observing them in their craft and boasting about how awesome we are - because it's true."
Tim thrives in a collaborative space. The growth of Lutheran High has brought new and talented colleagues to problem-solve with. He is passionate about how LuHi will continue to grow and adapt to bring more people into the community while remaining firm in its mission and beliefs.
Tim's hope is that students graduate from Lutheran High with a successful educational experience. He says, "If we are a good educational system and if students are coming away from our school saying, 'That teacher was awesome, our school is amazing,' those things are really rewarding to hear because it means our culture is working and our students and teachers are interacting well."
In his free time, Tim loves to spend time with his wife, Katy, and his five kids. Normally this includes watching sports, playing games, camping, and cooking. Tim is also an assistant coach for the LuHi boy's soccer team.