Student Jonathan Jafee shares 3 reasons he loves LuHi
We're excited to share LuHi Junior Jonathan Jafee's words describing what he's valued about his time at Lutheran High School so far.
At LuHi, we are blessed with an amazing student body and an all-around supportive community. We love it when our students are all in, contribute to the LuHi culture, and make our school a better place! Jonathan Jaffee is one of those students and that's why we're excited to share his words about his time and experience so far at Lutheran. We'll let him take it from here: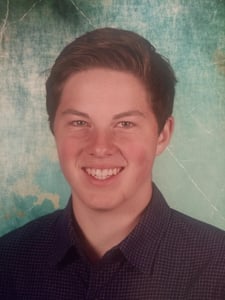 Hello, I'm Jonathan Jaffee, a Junior at LuHi. I'm a student in Lights Academy member of the Student Council, a former Student Ambassador, and played football Freshman and Sophomore year. I'm excited to tell you about Lutheran High School. I love Lutheran for three reasons:
the community
the Christian values
and the teachers
I'd like to highlight LuHi's community. Lutheran is driven to maintain a respectful and integrity-filled community. Unlike any school I've been to - public, charter or private - LuHi has proven to have the strongest community as a whole. Respect can be seen throughout the halls as teachers greet their students and students thank their teachers at the end of a class period. Our community is integrity-filled. We strive to be disciples of the Lord and true to one another.
Second, Lutheran's Christian values, which are the drivers of the school and its entirety. Without Christ being the center of a community, there's all too often silly conflict and pointless arguments. When we observe Christ as our Lord, we center our lives around Him, we value His relationship with us, and we act based upon His commands. Lutheran has Chapel in the gym Mondays, Wednesdays, and Fridays. This is a great time for us to come together as a family to receive a message from God. Lastly, LuHi requires four years of theology. Theology teaches us about the Bible and Christ's intentions for us. Through your theology classes, you'll become confident that Christianity is true and your relationship with God will grow.
Lutheran is a unique school for the fact that we have teachers who are actually loving and caring, so our teachers care about how you feel. They reach out when you're sick and help you catch up when you fall behind. The teachers at Lutheran are well qualified for their assigned subjects. Every teacher is knowledgeable about their classes and course content, they don't fake it until they make it because they don't have to. Lastly, our teachers are accessible. This is highly important as you enter high school. School can become stressful or confusing, regardless of where you go, but the solution to this is teacher accessibility. The teachers at Lutheran are available to help you right when and where you need it.
---
Thanks for your kind words, Jonathan! If you are a prospective student, we invite you to come take a tour, set up a shadow day, or join us for an Open House on campus to meet our staff and learn if we are the best fit for your student's high school goals!