Top 6 benefits of using technology in the classroom
Parents might fear having tech devices in a classroom setting. However, technology in the classroom offers many benefits.
With technology increasingly pervasive in our lives, from wearable fitness trackers to virtual reality entertainment systems to kids who know how to text before they can walk or talk, it's inevitable that the educational environment must evolve to incorporate more technology in the classroom. Some parents might fear having tech devices in a classroom setting, citing them as distractions or worrying about the various media students might have access to while being unmonitored.
However, technology in the classroom offers many benefits that outweigh potential disadvantages – especially if school faculty is prepared to handle the influx and usage of devices during class periods. Rather than fight widespread tech adoption among younger generations, it can instead be embraced as a powerful teaching tool that prepares students for tech-integrated careers.

1. Personalized Education Experiences
Technology not only brings greater learning access to the classroom, but also lets teachers adapt to individual students' learning styles, customizing lessons and homework to fit their unique approaches and optimize the results. Students who are more visual can enjoy video presentations, while audio learners can access podcasts related to the lesson. Student progress can be tracked more accurately, with advanced students getting access to different homework or projects than those who might be struggling with a topic.
A tech tool Mr Schlecht, a math and theology teacher here, likes to use is Nearpod.
2. Wider and Deeper Knowledge Access
Rather than relying on just one or two textbooks to get across the curriculum, teachers can use tech devices to let students do more in-depth research and get a broader range of perspectives on a topic that's the focus of current lessons. While internet usage must be managed to ensure students aren't accessing improper or dangerous material, it also offers wider media formats such as YouTube videos and podcasts that are relevant to the students.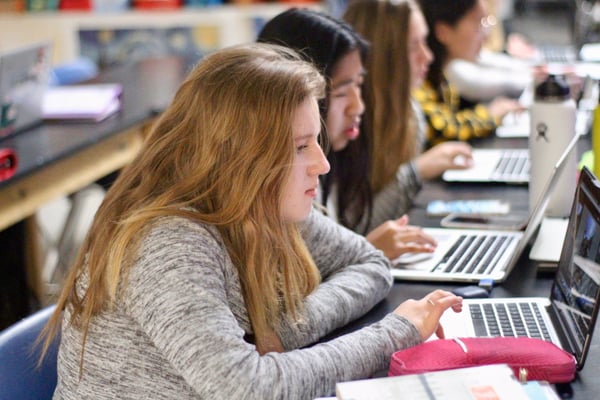 3. Higher Student Engagement
What's one of the biggest struggles a teacher has with a class? Keeping the students' attention! Boredom is the bane of many faculty, but the use of technology can provide an interactive interface to a lesson, rather than relying on traditional, straightforward lectures or PowerPoint presentations. Games and virtual projects can be excellent crossroads for "edutainment" strategies that teach while keeping engagement high.
A popular tech tool our staff likes to use is Kahoot.
4. Learning Outside of School
When a student has the ability to access lessons and study materials from home or via mobile devices, this lets their educational process become a 24/7 process. Teachers can manage student progress and grade homework from home as well, which lets students who are sick stay on track or help the class keep current with curriculum progress even if the weather forces schools to be closed.
At LuHi, we use Canvas as our Learning Management System.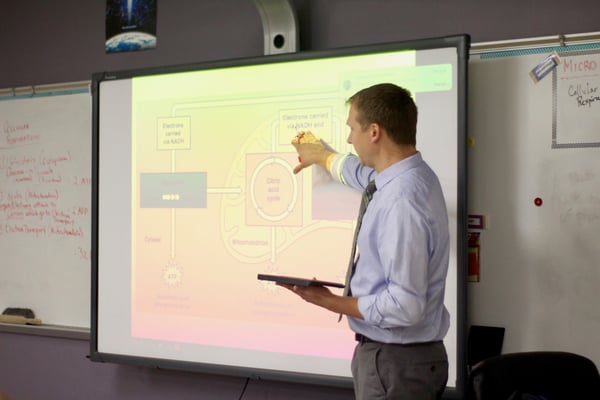 5. Preparing Students for the Future
Technology isn't going away any time soon. If anything, it's going to become even more enmeshed in our students' lives in ways we can't even predict right now. More and more careers are reliant on technology for automation and productive communication, and students who are able to jump into these tech-oriented roles without requiring intensive tool training will have a huge advantage. Tech use in the classroom can even help students discover a real passion for pursuits in areas such as engineering, coding, and other STEM focuses.
This is a big reason we have a bring your own device program. We always want to look more like college than middle school. Where many middle schools provide a one to one tech program for students, colleges and professors will expect students to have a device that they are comfortable enough to use on a daily basis without needing any hand holding.
In high school educators have four years to bridge the gap between middle school and college. One gap we strive to fill is teaching responsible device usage.
6. Better Collaborative Tools
Teamwork is a critical skill that all students can benefit from, and technology can give students a way to collaborate through shared interfaces, group devices, and the ability to swap data from device to device easily. Teachers can also collaborate with students more directly through devices, making student-to-teacher ratios less of an obstacle to learning progress.
Technology in the classroom is a fantastic way to help students learn, discover new interests, and give teachers a way to connect and encourage educational passion in the next generation. Those faculty who learn how to bring technology to their students gain many benefits beyond what we just introduced here. Of course, it requires smart integration and some extra management, but the return is well worth the investment. Students are already making technology a core part of their daily lives–so why not meet them where they're at on the educational path and give them even more tools to succeed?