Top 5 benefits of using technology in the classroom
Parents might fear having tech devices in a classroom setting. However, technology in the classroom offers many benefits.
Most people have an opinion about technology usage in the classroom. Does it do more harm than good? How much tech is too much? Are phones in classrooms only a distraction? Is it better for students to turn in homework virtually, or is handing in physical copies the way to go? Should we fear AI in the classroom or celebrate how it can help correct grammar, check for plagiarism, or generate content ideas?
If you have talent-whispering teachers, it's best practice to give them the freedom to use what tech works best in their classroom. At Luhi, we call these types of teachers rockstar teachers. Rockstar teachers own their space, know how their students learn best, and seek methods that make the most sense for their subject matter. Rockstar teachers know how to navigate their students' interactions with technology. Rather than fight widespread tech adoption among younger generations, we embrace it as a powerful teaching tool that prepares students for tech-integrated careers.
Here are five benefits we've found of using technology in the classroom:
1) Personalized Education Experiences
Technology gives teachers tools to adapt to individual student's learning styles. It helps customize lessons and homework to fit their unique approaches and optimize the results. More visual students can enjoy video presentations, while audio learners can access podcasts related to the lesson. Student progress can be tracked more accurately, with advanced students getting access to different homework or projects than those struggling with a topic.
A tech tool math and theology teacher Mr. Schlecht likes to use is Nearpod. He shares two ways he's benefited from the app, "The number one benefit is student engagement. Students are locked in and love it. Because of the many activities it offers, students are on their toes and not getting bored. Another pro is it helps me recognize students anonymously. I can choose their answer or drawing; only the student and I know it is theirs. This is a great benefit to lift up and encourage a student!"
2) Deeper Knowledge Access and More Efficient Research
This generation has grown up using the internet for research. Anyone can use Google, so our teachers aim to help students use technology to research efficiently and accurately. The way students conduct research may have changed over the last decade or so, but the foundation of good research methods hasn't. Once students have the information, they still have to analyze and synthesize it. Students can save time by using the right tools to sift through the massive amounts of information available.
LuHi partners with Concordia University Nebraska so students can access their Academic Database. The Academic Database is an alternative to a Google Search or even ChatGPT as it gives students access to published research and peer-reviewed articles. Students in AP Literature, AP Langauge, and Lights Academy use this service often.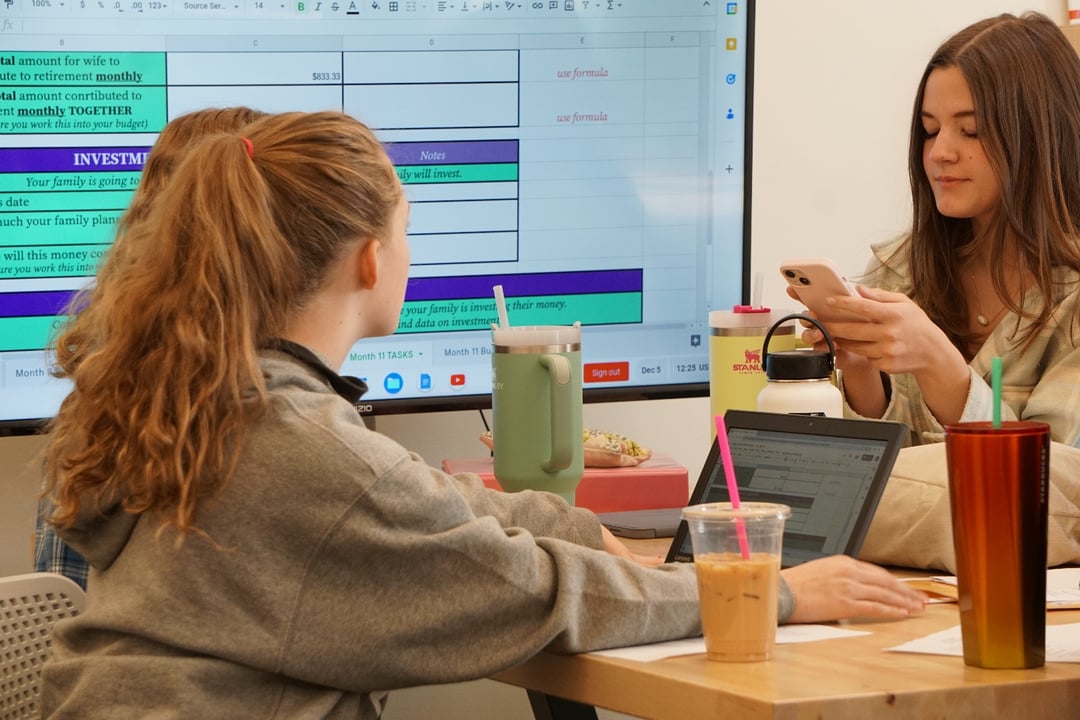 3) Higher Student Engagement
What's a classic mark of a strong educator? Their ability to keep students engaged! Boredom is a surefire way to kill a classroom vibe. The use of technology can provide an interactive interface to a lesson rather than relying on traditional, straightforward lectures or PowerPoint presentations. Virtual projects can be excellent crossroads for "edutainment" strategies that teach while keeping engagement high.
Some teachers even gamify their lessons. A popular gamification tool our staff likes to use for test review is Kahoot. Strength training classes utilize fitness apps to track progress. The chemistry classes utilize PhET simulations and equation-balancing interactive web tools.
4) Preparing Students for the Future
As technology becomes even more enmeshed in our student's lives, we want to encourage a positive relationship with it. More and more careers rely on technology for automation and productive communication. Students who can jump into these tech-oriented roles without requiring intensive tool training will have a huge advantage. Tech use in the classroom can even help students discover a real passion for pursuits in areas such as engineering, coding, and other STEM focuses.
This is a big reason we have a bring-your-own device program. We always want to look more like college than middle school. Many middle schools provide a one-to-one tech program for students. Still, college professors will expect students to have a device that they are comfortable enough to use on a daily basis without needing any hand-holding.
In high school, educators have four years to bridge the gap between middle school and college. One gap we strive to fill is teaching responsible device usage.
5) Better Collaborative Tools
Teamwork is a critical skill that all students can benefit from. Technology can help students collaborate through shared interfaces, group devices, and the ability to swap data from device to device easily. Teachers can also collaborate with students more directly through devices, making student-to-teacher ratios less of an obstacle to learning progress.
For example, LuHi uses Canvas as its Learning Management System. In Canvas, teachers and students can communicate via secure email. Teachers provide comments and digital annotations on students' digital homework submissions. Both tools provide instant feedback and open communication in and out of class.
Technology in the classroom is a fantastic way to help students learn, discover new interests, and give teachers a way to connect and encourage educational passion in the next generation. Those faculty who learn how to bring technology to their students gain many benefits beyond what we just introduced here. Of course, it requires smart integration and some extra management, but the return is well worth the investment. Students are already making technology a core part of their daily lives. At LuHi, our rockstar teachers aim to meet students where they're at on their educational path and give them even more tools to succeed.
Originally published in 2020, updated for accuracy in 2023.