What does financial assistance look like at LuHi?
If you have questions about how the tuition assistance process works at Lutheran High, read on to learn about tuition costs and assistance opportunities.
So many things have changed over the past year and a lot of the processes we operated by have melded into something new. Navigating the world of COVID-19 restrictions has been a challenge for school officials throughout the world. Many students and parents have been dissatisfied with how their district managed things and are looking for alternatives to public school.
Unfortunately, there is a misconception that private schools, specifically private Christian schools, are out of reach for most people because of the tuition rates. At LuHi, we know you want your children to have access to a top quality education. We want you to know that we can help you navigate the costs associated with that quality.
Is Attending a Private Christian School Worth the Cost?
To put it plainly, yes, we sure think so! Let's set aside any varied approaches to handling a global pandemic and take a look at some key differences between public schools, public charter schools, and private schools. Then we will investigate what sets LuHi apart from the rest.
Public Schools vs Private Schools
The main differences between public and private schools lie in admissions, curriculum, governance, and culture. Students must apply to a private school, but can simply register for public school. Public school curriculum is state-mandated, but charter schools offer a wide range of electives and college preparedness courses. Private schools have even more freedom in what they teach and, perhaps more impactful, how it is taught (i.e. through the lens of a Christian worldview). Public schools are governed by districts and elected board officials.
All of these contrasts lead to culture differences, not only between the types of schools, but among the same sort of schools as well. Private schools can restrict which and how many students to accept, thereby creating their own unique culture. This can mean smaller class sizes, which strengthens student/teacher relationships, affords the opportunity for more personalized instruction, and gives students more opportunities to participate in class discussions.
What Sets Lutheran High School Apart?
If you have decided that sending your child to a private school is the right choice for your family, consider the impact that a Christian education will have.
Guided by His Word
At LuHi, students receive an exceptional education that is rooted in scripture. By guiding students through each subject with the Christian worldview, teachers strive to help students remain connected to God and to strengthen their faith.
Showing students that Jesus is in everything we do, we are setting them up for a lifetime of service to God and others. They will be prepared for a successful life with a deep connection to their Creator. Furthermore, the questions that most teenagers begin to ask at this stage of life are ones that are more easily tackled in a positive, faith-based environment. Who am I? What is my purpose? Why are we here? Is there hope? With a personal commitment to helping your child thrive, our teachers and staff love to offer guidance when these types of questions arise.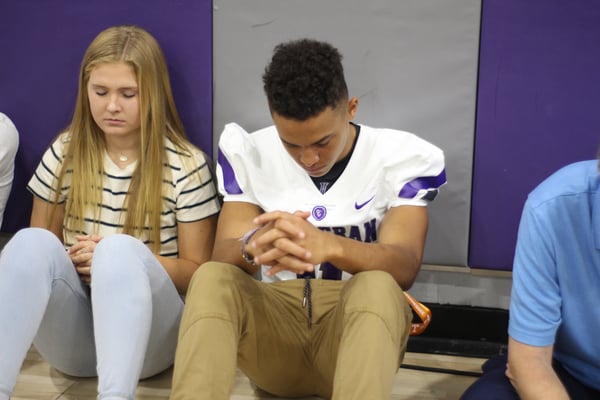 The Numbers Say It All
Everything we do for our students at Lutheran High School is aimed at providing an exceptional high school experience and at preparing students for college and career life afterwards. Parent involvement is also crucial for students. We are very proud to say that, with support and participation from parents, staff, students, and alumni, every student gets to the finish line with a 100% graduation rate. This is a sharp contrast to area high schools; Denver Public Schools reporting a 70.2% graduation rate in 2019. Our high rate of high school completion is a direct result of the smaller class sizes, dedicated and talented staff, LuHi family participation, and an environment that champions love and faith.
Highly Talented Teachers
Surrounding students with amazing teachers allows for tailored instruction that is not a "one-size-fits-all" approach. Smaller class sizes mean that teachers have the time and capacity to help students discover their strengths and to present coursework that is best suited for particular students. Another benefit of fewer students per class is that there is more time for discussion and analyzing information. LuHi students learn to think critically and develop their own perspective, rather than regurgitating facts for a standardized test. This is a crucial skill for their personal and professional lives in the future.
Highly Relational Environment
The teen years can be incredibly stressful, confusing, frightening, and altogether uncomfortable. It is a time of great change for all students - physical, emotional, developmental, and social shifts are all occurring simultaneously. If teens do not have the proper support systems around them, this can be a time of isolation and withdrawal as well.
By providing a highly relational environment for our students, we build the framework for loving support and emotional growth. We believe that part of our role is to provide students with the skills they will need to safely navigate this season of change. Helping students work through conflict with love and Christ-like respect for others is a serious endeavor for LuHi staff and teachers.
Can We Afford a Private School Education?
While every family's financial situation is unique, we feel strongly that everyone who chooses a private school education for their child deserves opportunities for help, if needed. Tuition assistance is available for everyone and it's simple to apply. We also believe that a model of transparency is best for everyone and as stewards of the resources that God provides, we share with our families how their tuition is used. Let's look at current tuition rates, so there are no surprises.
Tuition & Fees 2021-2022 school year
Non-refundable application fee: $50
Enrollment fee: $255
Non-refundable materials fee: $675
Annual tuition: $12,650 ($1,150 per month for 11 months)
Annual tuition, if paid in full: $12,450
Annual tuition - international students: $18,000
Discounts
$660 ($60/month) discount for members of churches that make up the Colorado Lutheran High School Association
Internal Scholarships
$1,000 reduction in freshman year tuition for Lutheran K-8 valedictorians
$500 reduction in tuition freshman year for Lutheran K-8 salutatorians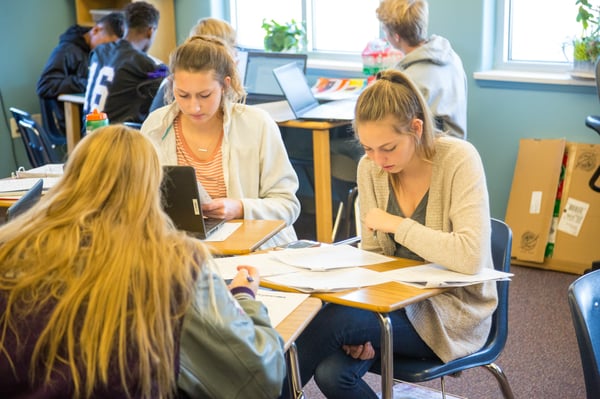 Tuition Assistance: Ready to Begin the Journey?
You can get the financial aid process started as early as September of your students 8th grade year by visiting our FACTS application page. Here, you can easily complete and upload the information required in one central location, rather than filling out a new form for each opportunity. You can also save your progress and return to it at your convenience.
Most families will need the following information for the application:
A copy of IRS Federal Form 1040, 1040A or 1040-EZ, your most recent Federal income tax return, supporting schedules, and business returns.
Copies of W-2 wage and tax statements for both parents (if applicable).
Copies of supporting documentation for household non-taxable income.
In addition to income and tax documentation noted above, you'll also need a breakdown of your monthly expenses, annual expenses, assets and liabilities and a few other details. There is also a one-time fee of $30 for FACTS to process your application.
We understand that this process can be daunting. Please rest assured that our financial aid staff is well versed in all aspects of tuition assistance and scholarships. In any given school year, 50% - 65% of our students access some form of financial aid. We will be there with you every step of the way because we believe in what Lutheran High School has to offer and want the best for each and every student who walks through the doors.