Why I Chose LuHi for High School
Choosing a high school is tough. Current LuHi students share what drew them to pick LuHi and how their experience has measured up for them.
Choosing a high school can be a daunting task, and every student and family has different criteria they're looking for in academics, teachers, student life, and extracurricular activities. We interviewed a few of LuHi's dedicated students to find out how they chose to be a Lion, and if their expectations for a great school have been met in LuHi.
What was the main reason you chose LuHi for high school?
Haley, class of 2021: My parents wanted me to attend a school with top notch education, athletics, and culture. LuHi checked all of those boxes for us!
Ajaya, class of 2020: I chose Lutheran High School for the family aspect. All my life I have attended smaller schools and I really think I learn best when I have the opportunity to make that connection with my teachers and have them know me by name. Even teachers who I have never had a class with know me and that is something that I cherish because it shows that the faculty here cares.
Christopher, class of 2022: I chose LuHi as a high school because all my friends were going there and I also really wanted to go. People told me that it was an amazing school with tons of opportunities to focus on what I wanted to pursue. Most importantly, Lutheran High is a Christian School that is going to prepare me for the real world, and give me a solid foundation in my faith.
Gabby, class of 2021: I chose LuHi because I wanted a smaller community. I wanted to go to a place where everything was much more personal, and where more than just two of the teachers know your name. I also wanted the ability to openly worship God and continue to be taught about him.
Kyra, class of 2020: Since being at LuHi for the past four years, I really have felt like a part of a community. All my teachers are super caring and supportive, and genuinely want us to grow academically, spiritually, and as people. I have been able to participate in activities like NHS, choir, and others which have made LuHi feel like such a family.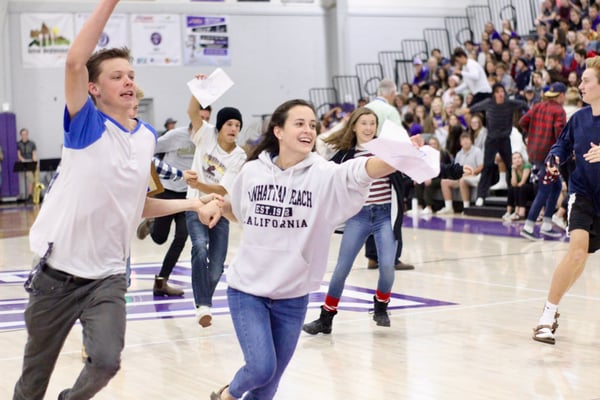 Has LuHi met your expectations? If so, in what way(s)?
Haley: Everything I have been involved in at LuHi has exceeded my expectations, and there is a culture to do your best and push yourself out of your comfort zone to achieve your goals.
Ajaya: LuHi has met my expectations of being a school that won't let you fly under the radar. You can try to be invisible but your efforts will quickly be smashed by Mr. Ness' ability to talk to everyone with his iconic accent. I honestly think that this environment ensures that you are making an impact on the people around you through its ability to know each and every student individually.
Christopher: Lutheran has not only met my expectations. It has allowed me to skip two levels of math, made me a better writer, and reinforced concepts from middle school. I really like the community at the school and all the new people I get to meet.
Gabby: Yes, LuHi has without a doubt met my expectations. Anytime there is adversity, like the coronavirus, my whole family and I are blown away at how great it is handled. There is nowhere else I want to go. LuHi feels like a family, and I have learned so much about God already. You know that the teachers at LuHi really care about you and I think that's pretty awesome.
Kyra: I chose LuHi because when I shadowed here, I really felt like the teachers cared about me as an individual. Other schools where I shadowed made me feel like just another face in the crowd, but I felt everyone at LuHi had created a community and wanted me to be a part of it.
Thank you to Haley, Ajaya, Christopher, Gabby, and Kyra for sharing their perspectives on their experience with LuHi. If you are a student interested in attending our school or a parent of a student, please reach out to us with questions or to request a tour. We'd love to have you join our community!