A Day in the Life of a LuHi Student
What does a typical day entail for a LuHi student? Core classes, elective classes, and then curricular activities usually fill a student's day.
Annabelle is a sophomore at LuHi. What does a typical day look like for her this semester?
Classes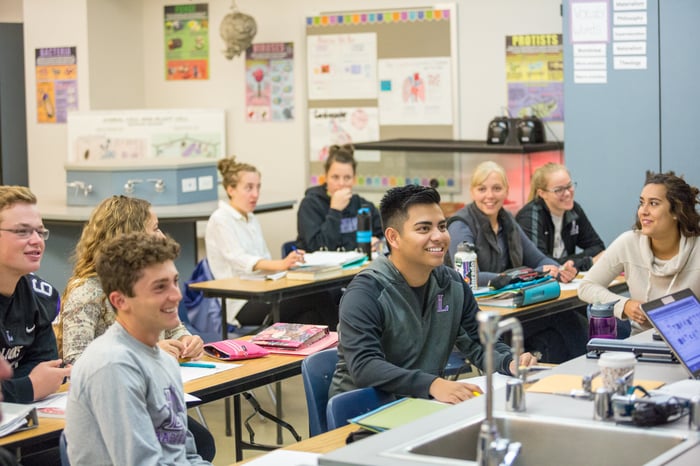 The morning begins bright and early (8:10 Monday-Wednesday-Friday, 7:40 Tuesday-Thursday) with an interactive geometry class which studies angles, betweenness, rays and proofs. Next up is a hands-on Photography course in which the students master Lightroom, Photoshop and Animoto software. In Theology II, they learn what it means to be salt and light in the world, based on Matthew 5:13-16.
In Honors World History, they absorb information about classical civilizations, such as Sparta, Mauryan-Gupta and Han China. Spanish II introduces new vocabulary like "bigote," "frijoles", and the past tense of verbs. In Women's Christian Decisions, female students are learning about sexuality, pregnancy, childbirth, and how to be a Christian woman in today's world. (Male students take Men's Christian Decisions in which they learn about sexuality and health for men, how to treat women with respect, and how to build strong families.)
In Honors American Literature, students are currently discussing the Puritans through The Crucible by playwright Arthur Miller. Annabelle's last class of the day is Honors Chemistry, where she learns about protons, electrons and neutrons, as well as the conservation of matter.
Annabelle and many other students can take honors courses to stretch their knowledge and GPAs, since the courses are weighted on a 5.0 GPA scale.
Recognizing that students all learn at different levels with varying gifts and abilities, LuHi provides a plethora of options. In addition to honors classes, students can take dual-credit online courses, AP courses for college credit, and be accepted into an Academy to go beyond the accomplishments of an average high schooler.
At LuHi a student can be in one of six Academies: STEM, Music, Art, Business, Mission and Ministries, and Lights. LuHi also offers its Access Program for students who request additional help in the classroom.
Food, Friends and Fun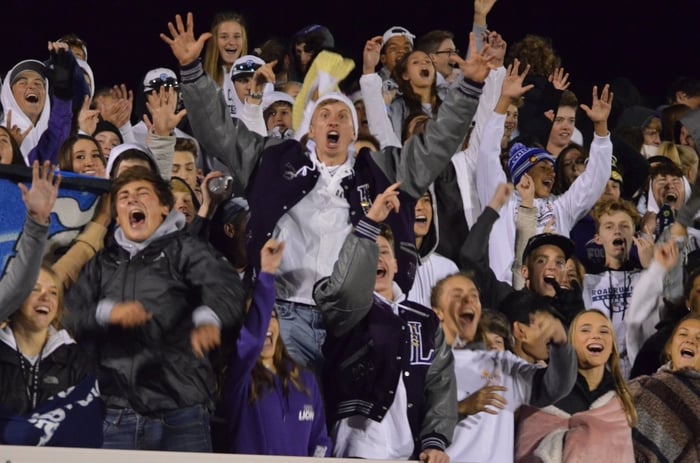 When lunch rolls around, Annabelle gathers with a large group of friends. If she was a senior, she could head off campus to a local restaurant. But for now she stays on campus in the Flex Room or goes outdoors to enjoy the Colorado sun.
Fortunately, students do have the option to purchase hot lunch to support various groups, such as a gourmet sandwich and chips from Great Beginnings or Subway to support Lions for Life; Little Caesar's pizza for EF Tours; Chick-fil-A for the National Honors Society; and Del Taco for Prom.
Then there are study halls to get homework knocked out, passing periods to catch up with friends, and after school clubs and activities, some of which involve traveling around the state or country.
When the final bell rings at 2:40, students can compete in football, golf, soccer, volleyball, basketball, baseball, cross country, track and field, spirit team, tennis, and lacrosse. If a student is not heading to a practice or game as an athlete, they can join the rambunctious Lion Pride crowd at competitions throughout the week.
Students can also participate in theater, band or choir performances and clinics, art shows, and many clubs:
Robotics,
Student Council,
Ping Pong,
National Honor Society,
Yearbook,
and Student Ambassadors, which represent LuHi students at various events or activities.
Not to mention, there are after-school college prep meetings, service and mission opportunities, and school dances like Homecoming, Prom, and Sadie Hawkins.


As you can see, LuHi is committed to creating an academic environment that prepares students for success in their collegiate and professional adult lives. Between all the classes, friendships, activities, clubs, homework, service events and more, students grow their minds, character, and a lifetime of memories — one day at a time.