Club Spotlight: Student Ambassadors
Student Ambassadors are the faces of LuHi. They welcome new students, host shadow students, & share their experiences about their time as a Lutheran Lion.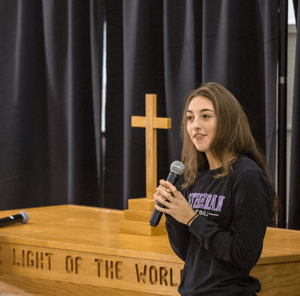 Student ambassadors is a unique club here at Lutheran High. That's because it doesn't necessarily fit the mold of a traditional club that meets every week or every month.
Yet, members of Student Ambassadors are passionate young students who share an interest in promoting Lutheran High, in helping prospective students and their parents make the best choices in education, and of ultimately making a difference. Throughout the year, they have ample opportunity to work toward that goal.
We strongly believe that they are succeeding.
Student Ambassadors: An Overview
Members of Student Ambassadors serve in the very important roles of "Welcome Committee" for prospective students and their families. Prospective Lions are paired with student ambassadors to "shadow" a day in the life based on their interests, so that they immediately feel comfortable in while exploring our campus and all it has to offer.
Student Ambassadors are also active at admissions events throughout the year, including Preview Day, where they share stories of their time at LuHi, offering insights into what it was like as a new student here.
What it takes to be a Student Ambassador at LuHi
Student Ambassadors have a unique combination of interest/passion, personality, and intangibles. Currently, LuHi is host to approximately 45 ambassadors, with the majority in 9th or 10th grade, and a handful in 11th grade. Throughout the year, Student Ambassadors will host approximately 200 students shadows!
While we are proud of every young man and woman who is part of the LuHi family, there are certain traits we're looking for in a potential Student Ambassador. To become a Student Ambassador, students must be nominated by at least two (2) teachers. Teachers typically look for students who are: outgoing, respectful, surround themselves with great friends, perform well academically, are responsible and mature, and are happy and engaged at LuHi.
After a student has been nominated, we ask them about their interests, future plans after high school, in and outside school activities, any honors classes they're taking, what middle school they came from, and if they're joining an Academy. We also have them write a short introduction sentence that we'll send in a welcome email to shadow students.
Student Ambassadors have a variety of academic backgrounds and interests so that there is someone relatable for shadow students regardless of their interests. We want everyone to feel welcome at LuHi!
What students gain as Student Ambassadors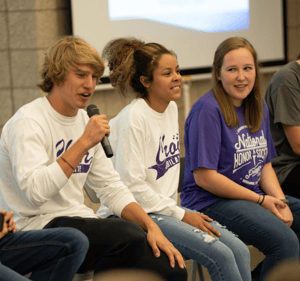 In many cases, Student Ambassadors have never worked so openly with new people in previous situations. These students learn valuable communication skills when they meet new prospective students and their families. Not only do they have to make them feel welcome, but they also have to convey the specifics of life at LuHi.
Specifically, there are three main skills Student Ambassadors develop while participating:
Communication. How to quickly feel comfortable with new people, making them feel welcome while simultaneously highlighting the benefits of life at LuHi.
Leadership. Guiding prospective students along a new path and introducing them to others requires exemplary leadership skills.
Flexibility. Student Ambassadors are constantly adjusting to new situations and people as they welcome new shadows.
Our Student Ambassadors are passionate about their roles, and about life at LuHi. They are in many ways, the faces of Lutheran High, both inside our campus and out in the community. They — and we — don't take that responsibility lightly.
Student Ambassadors represent the spirit of Lutheran High
We are proud to nurture leadership skills among our Student Ambassadors, and through our many clubs and activities here at Lutheran High. To learn more about Student Ambassadors, our shadow program, LuHi clubs or life at Lutheran High, contact us now to schedule a tour.