How LuHi is Supporting Mental Health & Wellbeing
Student mental health is more important than ever. Read how our staff and student clubs work to raise awareness and support student's wellbeing.
Mental health and emotional wellbeing provide the foundation upon which to build a successful life. Cultivating a strong heart and mind in the midst of pressure is an important endeavor for high school students, because it is a time in life when the body and mind change rapidly, and outside pressures start to mount. From academics to extracurriculars, family, faith and friends, young adults have a lot to deal with, and we are committed to doing all we can to promote mental health and wellbeing among our student body.
School Structures for Mental Health
One of the most important aspects of our commitment to mental health resources for students is our Care Team. Consisting of the principal, two guidance counselors, the Director of Ministry, Dean of Women, and two teachers, the Care Team meets bi-weekly to address student concerns and needs. The team discusses issues they have noticed, as well as those shared with via teachers, students, or parents. The goal is to come up with solutions to help address those issues, and maintain focus on mental and emotional wellbeing on a regular basis.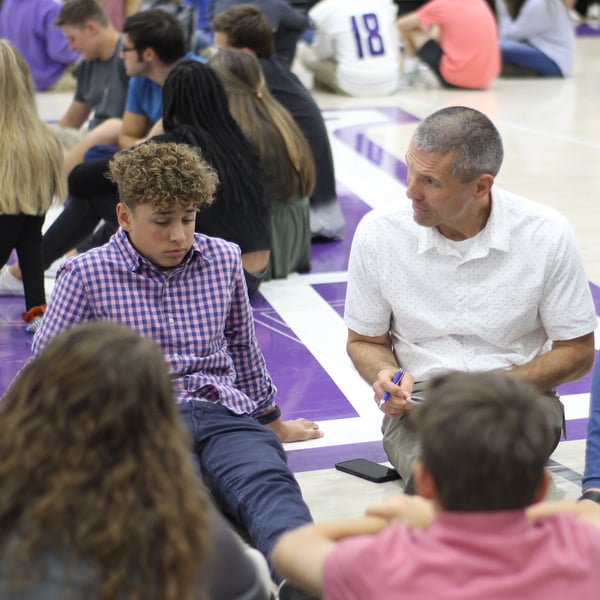 The Care Team also issues an annual connections survey for all students at LuHi, which checks in with them to see if they are connecting with an adult(s) and who would be their "go to" when they are struggling with mental and emotional health. The results of the survey are then used by the Care Team to help students throughout the year.
Mental and Emotional Health in the Classroom
At Lutheran High School, we are focused on providing a holistic, faith-based educational experience, including attention to mental health within appropriate coursework. There are mental health discussions and emotional education opportunities within courses including Health and Theology. Of course, there is also an overall attention to emotional health, because of our faith and approach to learning as well. Our dedicated teaching staff is trained in mental health awareness, and has a dedication to ongoing support, including prayer, for any student they teach.
Student Organizations and Extracurriculars Help Students Thrive
Any student organization or athletics program can be of help toward students' mental health, because connecting with peers and adult mentors is a big factor for connectedness. When a student feels engaged and connected with fellow students and teammates, depression and anxiety tend to lessen, and when emotions do flare up, the student has another network of support to turn to.
One example of a student organization specifically interested in supporting the holistic wellbeing of our students is Lions for Life. In addition to its role as a pro-life group for the unborn, the organization supports students at all stages of life. "We support life for the whole student body. I would like to think we are a support group for anyone needing help, or just even someone to talk to about life and what being pro-life means as a young adult," says group member, Georgia Stewart.
Faith-Based Resources for Students and Parents
One of the most important differences between LuHi and the public high school environment is our attention to the most important aspect of life, our Christian faith. As an extension of Jesus' loving embrace, we strive to offer important ways for students and parents to express their faith, and come together in community with God. We offer a variety of faith-based resources to support mental and emotional health, including Thrive Group, small group Bible Study opportunities, referrals to Pastors, and Thriving Parents for parents of LuHi students.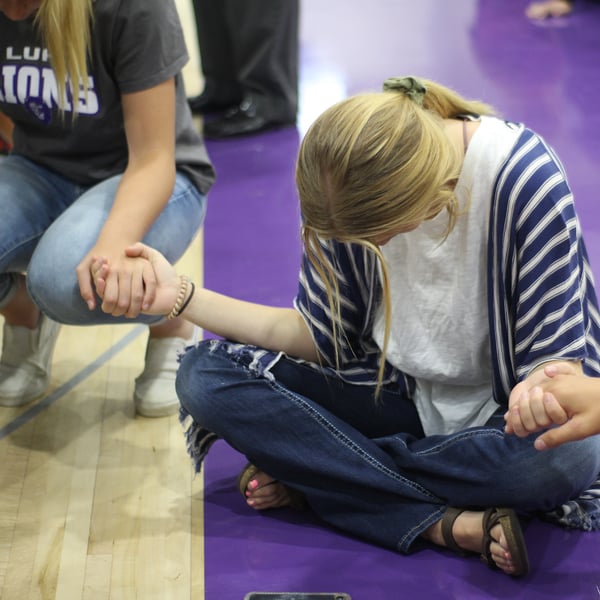 Mental Health Awareness is a Priority at Lutheran High School
As a faith-based high school, our mission is to help all students succeed as they grow in their relationship with God. Part of that mission includes a focus on mental health and emotional well-being on an ongoing basis. As part of that, there is a yearly Mental Health Awareness Week in the fall, overseen by Lions for Life, which was developed to help inform the student body on mental health issues and resources. The goal, says Georgia Stewart, is to "socialize the message and let people know they are never alone in this battle. This week was so important to me because I have had close friends struggle with mental health and lose their battle to it."
We are dedicated to helping students by normalizing conversations around mental health and emotions, because it is very normal to experience sadness, anxiety, anger and other emotions. It is also common to have trouble dealing with them, and we are here with lots of resources to help students through the difficult stretches.