How LuHi Prepares Students for Life After High School
What skills do a student need in order to be successful in the real world? Preparing students for success is an everyday part of our classroom experience.
In many ways, the four years that students spend at LuHi go by in a flash. High school is a time to cherish, but we also aim much higher. Every member of the Lutheran High faculty and staff wants to prepare our students for college and for life.
So much more than academics.
Student success goes beyond the letter grade. In addition to challenging and preparing our students with rigorous academic paths, we aim to create a well-rounded, whole person through a Lutheran education that is uniquely LuHi. Here's how:
Supportive environment with a big-picture focus.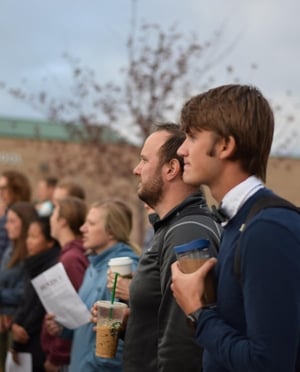 The Lutheran High community is assembled to be a well-rounded and caring one that prepares students to become active participants in their college environments and ultimately, the communities in which they live and serve as adults.
Our faculty are bright and passionate educators who go beyond teaching to engage students and make them think. The LuHi staff truly care about students and help reinforce the life lessons and habits that will help them succeed in college and as members of society. Our ministry provides love and support.
High school brings with it a unique series of challenges, stress and decisions for students. As teenagers grow into adulthood, they are learning how they fit in the world and wondering if they're valued and important or not. In addition to the age-old desire to fit in with their classmates, teenagers nowadays internalize even more pressure from picture-perfect Instagram feeds and humble-bragging Snapchat stories, making it seem like other people's' lives are always better than their own.
Our top priority at LuHi is to have every teacher, coach, and staff member show through their words and actions that our students are inherently loved and worthwhile, not because of their follower count or the number of "likes" on their last post, but because they were crafted in the image of God Himself.
Sports that nurture teamwork, competition and a strong work ethic.
With 14 varsity-level sports teams and a 90% participation rate, the athletics component of high school is one that is embraced by a majority of our students. And with several sports teams that compete at the playoff level, LuHi students develop the work ethic and spirit of competition needed to perform at the highest level.
In some cases, this means continuing the athletic / academic journey in college -- in fact, LuHi currently has 35 athletes playing at the collegiate level. For other students, their participation in LuHi athletics helps them build and nurture strengths through teamwork and competition. This experience prepares them to succeed academically in college, in their careers, and in society.
Academic excellence and college preparation.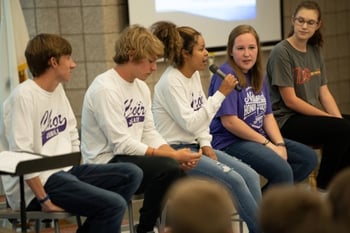 While they are not the only critical factor in future success, strong academics are an essential part of life at LuHi. We know that for students, academics is an individual journey. All students have their own strengths and weaknesses, and at LuHi, our faculty helps nurture those strengths and overcome the weaknesses.
We're guiding our students not only to survive college, but to thrive in their baccalaureate studies. From AP and college-level courses to literally prepare students with college-level coursework, to our Academies, which gives students the ability to create specific curricula around their interests and passions, the sky's the limit for LuHi students academically. We are here to guide them on their journey and prepare them to succeed.
We also strive to help our students build the right habits to succeed in college. Foundational habits like note taking, studying, punctuality, professionalism and developing a work ethic. LuHi students leave our walls ready to tackle issues and solve problems.
Engaging activities.
With many groups, clubs and activities, including our support of fine arts, music and theater, LuHi provides ample opportunity for students to align with those who share their passions and interests. From instrumental and vocal groups for students with a musical interest to art shows, trips to local art exhibitions and even two 3D printers to open up new artistic possibilities, there are seemingly endless opportunities for students to participate and engage.
Students can indulge their sense of curiosity along with their passions, exploring music, art and theater across a range of disciplines. Simultaneously, our robust activities also prepare students for college and the workforce by sometimes necessitating work or partnership with students who may differ in other ways. Our activities stimulate, surprise, engage and challenge students, preparing them for the next stage.
Who will your child grow up to be?
At LuHi, we pride ourself on creating a supportive and nurturing environment that molds our students into strong, confident, successful adults.