Greater Impact: Why the Academies are Enhancing Student Learning
Challenging high-achieving students is important. Enter the Academies: a personalized learning experience for students to pursue their passions.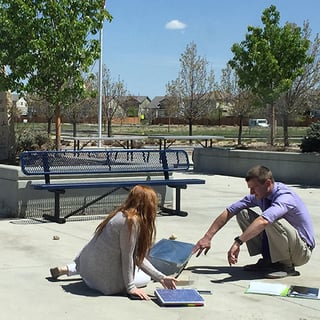 A couple of years ago the leadership at Lutheran High School pondered the question: "What can we do for our academically motivated students to provide them an advantage for life after high school?"
Other high schools generally address this question by providing numerous honors and AP courses that can challenge their top students academically. While LuHi also has honors and AP offerings, we have set out to do something more than just challenging coursework. Our desire was to build a program where students can, if they desire, choose to pursue their passions, honor God, and serve their community.
The cornerstones of all of the Academies are the four "C's": Coursework, Collaborative Community Experience, Cross-Academy Curriculum, and a Capstone project. Students who complete the 4 C's in the Academy of their choosing receive an "academy endorsement" on their high school transcript. (For more specifics, click here.)
So why do this? What are the advantages?
Put simply, we believe colleges are looking for something more from the top high school students as they consider them for their colleges and universities. A transcript full of honors courses alone may not show the entirety of a student's performance. While challenging coursework is essential, it may no longer be the differentiator that it once was in the college admissions process. We believe that an academy endorsement sends the message that:
"I chose to go above and beyond the normal high school curriculum. I challenged myself in my area of interest. I took classes like Leadership, Business Studies, and Public Speaking. I obtained real experience in the field and served the community. I put what I learned on display for all to see. I honored God through it all with my gifts and abilities."
What college (or employer for that matter) wouldn't want that student?
The Benefits of an Academy
The benefits of an academy experience are numerous. Students can champion their 4 C's in their college essays. They can use their real-world community experiences to show a deeper understanding and passion for their area of interest. Those same experiences can clarify for students which career path may be the best fit for them.
For example:
Lutheran High School Art Academy students - who spend about 3 hours a day creating art in their area of interest - have expansive portfolios and experience with community public art displays.
LuHi STEM (Science, Technology, Engineering, and Math) Academy STEM (Science, Technology, Engineering, and Math) Academy students not only graduate with 10 semesters of science and 9 semesters of math but spend time with employers in the medical or engineering fields.
Lights Academy students deliver capstone projects in the form of "TED talks" to interested members of the community.
The Music Academy students explore professional music ensembles as well as gain audition experience for various solo and ensemble Festivals.
Mission and Ministry Academy students can serve local ministries and gain valuable insight into church-work professions.
Student Success
2016 Graduate Noah Rolf had this to say about the Academy he pursued, "Lights Academy has been very beneficial to my learning as a student. I have been able to pursue what I want to research. This has given me good foundational knowledge for what I want to after college and during college. Lights Academy has been extremely beneficial to my school experience and I would not be the person I am today without it."
The value of an Academy is deeper than keeping high achieving students challenged. It allows them to dig into passions and potential careers so they can confidently choose the right college and major for them. It fosters a unique environment of growth, freedom, and personalization where students' confidence is boosted and experience is gained.
A Business Academy will be added for the 2017-2018 school year with possibilities of a Sports Management Academy, a Communications Academy, and an International Student Academy in future years.