LuHi Alumni Spotlight: Alex Bowers starting Pediatrics Residency
Alumni Alex Bowers, 2008 Parker Grad, has been up to a lot since high school, including going to med school and gearing up for his residency in Tacoma, WA.
What have you been up to since you graduated from Lutheran High?
I attended undergrad at Concordia University Nebraska where I earned a double BS in Biology and Chemistry. During my time at Concordia, I was given the opportunity to travel to Costa Rica on a study tour and then to Guatemala on a medical mission trip. Through this experience, I knew I was being called to go to medical school.
After accepting a scholarship from the US Army, I was able to come home for medical school and attended Rocky Vista University in Parker. I recently was accepted for a residency position in Tacoma, WA, in the Pediatrics program after I graduate from Rocky Vista in May.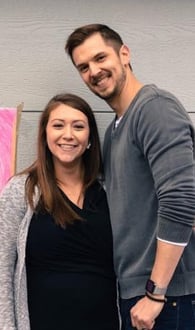 While I have been blessed beyond belief in this time with everything that has taken place in my education, God gave me the best gift when I was able to marry my best friend, Amy. Amy and I started dating at Lutheran. And now we are excited to welcome our first child into this world this summer.
What did you value most about your time as a LuHi student?
I value the Christ-centered education from teachers who truly cared about my growth both in the areas of study and spiritually. I value the lessons I learned from each coach who I now realize were teaching me more about how to have a strong work ethic and persevere through adversity then just the sport. But most of all I value the relationships I made with friends who I am still close with, my wife who I love, and strengthening my relationship with God who loves me unconditionally.
How did Lutheran High prepare you for college and your future career?
Lutheran High gave me a very well rounded experience, both academically and in sports, that helped create the characteristics I needed to succeed in medical school. I gained my love for math and science at Lutheran that has continued in my life and, through the workload of challenging classes, I felt prepared for what was expected in college.
With the gift of hindsight, how has your faith guided you through life?
Looking back through my life, there are numerous times where I know that without God guiding me, I would not be where I am today. My faith brought me to Guatemala to help provide medical support to those in need there, which was when God gave me the passion to pursue a career in medicine. Also, in my first year of medical school there were times when I felt very overwhelmed with how I was going to make it through. If it was not for continual prayer I know it would have been very easy to give up.
What is the most important lesson you learned at LuHi?
The most important lesson I learned was to trust God with all the uncertainties that can come in life. Being able to trust God in those small circumstances in high school helped me to know to go to Him first when I am struggling now.
Is there a particular Lutheran High teacher, coach or staff member that has significantly impacted or influenced your life?
Two Lutheran teachers/coaches who had a large impact on my life are Nick Gasau and Mark Duitsman. Both of them gave me great examples of how to be a strong Christian man who is a great leader.
Is there any advice you would like to offer to the current and future high school students?
Appreciate the relationships that you are developing now in high school. There are a number of friends that I am still really close with who I met at Lutheran. Even when you leave and go on different career paths, you will always have those experiences together from high school that will make you close.
Why did you choose the medical field and can you share some of the challenges you face within your chosen field as well as the ways in which you have been blessed?
I chose the medical field because I loved helping people with problems that can be so integral in their everyday lives. I am also very fascinated with how God has designed us as humans with the different factors that can impact our health. With these complexities of the human body comes the challenge of learning everything that can go wrong, which is often related to "drinking from a fire hose". But for the same reason, I feel blessed because I know I am in a field where I will be constantly learning and interacting with a diverse group of people who I share God's love with.